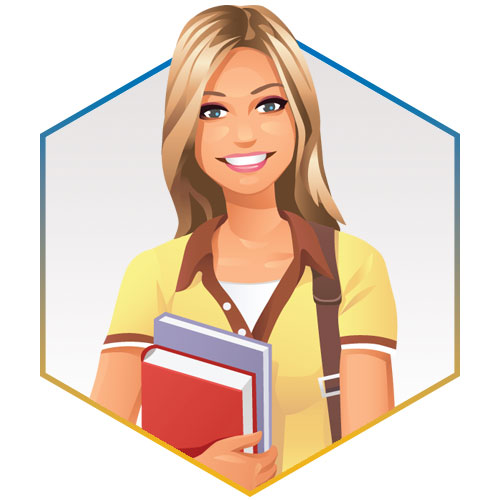 Background
Stage in life? Family? School/career path?
A fourth-year undergraduate student.
Ranks in the top of her class.
A leader in student organizations.
Analytical and practical.
---
Demographics
Male or female? Age? Location?
Female.
21.
Lives in Decatur, Georgia, with her roommate and her Corgi.
---
Identifiers
Demeanor? Communication preferences?
Disciplined and hard-working.
Practical and analytical.
Takes action and leads groups naturally.
---
Goals
Primary goal? Secondary goal?
Primary: Find a graduate program where she can work with many renowned professors while gaining experience with both the theoretical and practical sides of her discipline.
Secondary: Live in an area where there are many great companies offering opportunities for practical experience.
---
Challenges
Primary challenge? Secondary challenge?
Primary: Researching graduate schools is an exhausting and time-consuming process.
Secondary: Busy with her final year of undergraduate studies and preparing successors to take her place as leaders of campus groups.
---
Real Quotes
About goals, challenges, etc.
"I'm an Atlanta native, but I am perfectly willing to go anywhere in the U.S. to attend the graduate program I like."
"I relish collaborating with a wide variety of scientists."
"When I'm not working, I like to balance out what I've been doing at school."
---
Common Objections
Why wouldn't they choose Georgia Tech?
Doesn't feel like she'll be able to influence decisions within her department.
Not satisfied with Georgia Tech's career preparation resources.
Tech graduate students aren't paid competitively, and financial support is comparatively weak.
---
Messaging
How should you describe Georgia Tech to your persona in one sentence?
Georgia Tech offers a top-tier graduate-level program that provides all of the instruction, connections, and facilities you need to contribute to solutions and research breakthroughs that affect society.
---
Elevator Pitch
Sell your persona on Georgia Tech!
Georgia Tech offers accomplished, intelligent graduate students the opportunity to gain advanced knowledge at one of the leading technological research institutions in the world. Along with our nationally ranked graduate programs and wide range of research areas, we have a collaborative community of scholars in an environment that promotes creativity, discovery, and entrepreneurship. Enhancing their expertise by conducting practical and groundbreaking research in world-class facilities under the guidance of renowned faculty, graduate students build a foundation for a successful career in their chosen fields.
---
Sources: Georgia Tech Graduate Student Experience Survey 2016, undergraduate content survey Oct 2016, Armchair media 2016.