Headshot portraits for Georgia Tech faculty and staff are scheduled by appointment only on Tuesdays from 11 a.m. – 1 p.m. and are taken in the photography studio of the William C. Wardlaw Center.
Scheduling
Email headshots@gatech.edu with your name and department name in the subject line:
Let us know If you prefer a specific time slot on a specific Tuesday. Otherwise, you will be offered the next available appointment.
Please confirm the appointment promptly, as time slots are offered first come, first served.
Headshot Delivery
Your headshots will be delivered via email 1-2 days following your appointment.
The email will contain a link to download the hi-res images from Dropbox or Image Portal.
Tip: We remove folders from Dropbox monthly. We encourage you to download photos from Dropbox immediately since it's not a permanent home for photos, and folders are subject to removal at any time.
Institute Communications does not offer retouching or Photoshop enhancement services.
Cancellations
Directions to the Photography Studio
Wardlaw Center is attached to the south side of Bobby Dodd Stadium. From Tech Square, walk to Techwood Drive and travel south to the entrance on North Avenue. The Stinger buses also drop off in front of Wardlaw Center.
The photography studio is located on the Field Level. Take the elevator down by pressing the [F] button. When you exit the elevator, take a left, then a right when you come to the hallway. Walk to the very end of the hall. At the end of the hall are double doors out to the stadium field.
The photography studio and a waiting area will be to the right of the double doors, and bathrooms are located on the left. At your appointment time, please wait for our photographers in the waiting area outside of the studio.
---
Our Photography Studio
Wardlaw Center
177 N Ave NW
Atlanta, GA 30332-0181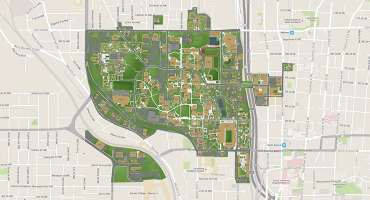 Campus Map